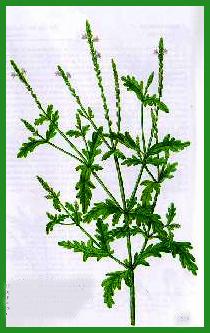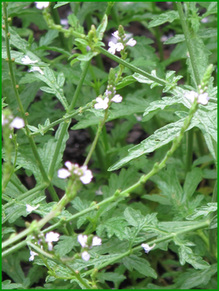 Common plant of the uncultivated places from 0,30 to 0,70 m of which one use the flowered tops.

Vervain helps digestion, calms headaches and nervousness, support for harmonious menstruations, it is also an excellent circulatory tonic against heavy legs, varicose, heumorroids.
Also : Gastric pains, insufficiency of lacteous secretion, arterial hypertension, fever, rheumatism, migraine.
In external use : distorsions, wounds, cellulitis, contusions.



Infusion : One spoonful for one cup of water, boil then let infuse 10 minutes ; 3 cups a day.

Decoction : One handful for one liter of water, boil 10 minutes, applied in warm compress on blows, wrench, distorsions.

In cataplasm; 50 g of fresh flowering plant cooked in vinegar, let it evaporate, spread between two towels on cellulite.



Verbena officinalis, Common Vervain, Common Verbena, Simpler's Joy, Holy Herb, mosquito plant, wild hyssop, Vervain