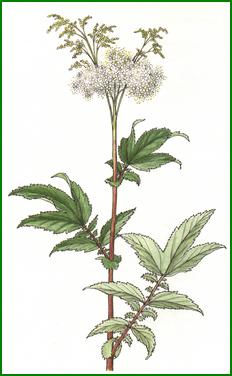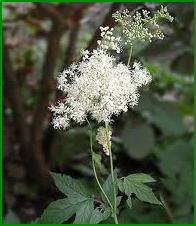 Hardy perennial of the wet places from 1 to 1,50 m of which one uses whole.

Meadowsweet contains a aspirin precursor, it is digestive, relieves gastric pains, diarrhoeas, rheumatic pains, it is a diuretic and helps with elimination of uric acid. Also in compress cataplasm to fight cellulitis.
Also : Gastritis, gout, arteriosclerosis, hypertension, lithiasis.
In external use : Wounds, ulcers, rheumatisms.



Infusion : 1 reaspoon for 1 cup of boiling water, let infuse 10 minutes ; 5 cups a day or in compress on the painful parts.

Decoction; 40g of roots for 1/2 liter of water, boil during 10 minutes then let infuse for 5 mimnutes in external use for cleansing the wounds.



Filipendula ulmaria, meadowsweet or mead wort, Queen of the Meadow, Pride of the Meadow, Meadow-Wort, Meadow Queen, Lady of the Meadow, Dollof, Meadsweet, Bridewort.